Close
Case Study on Landscape Urbanism, Research Studio for Prof. Klaus Loenhart, Institute for Architecture and Landscape [ial], TU Graz [2008]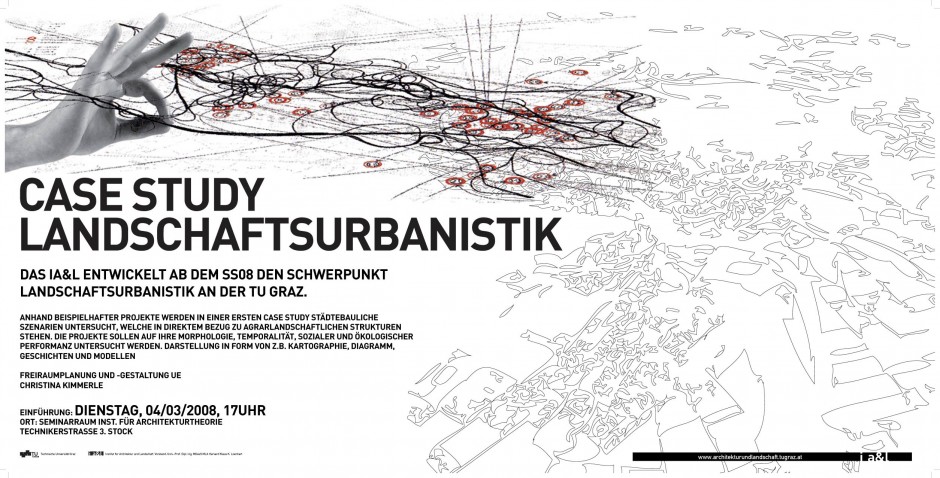 Landscape urbanism CASE01 / 5 projects – A CASE STUDY
The aim of the first CASE Study at the Institute for Architecture and Landscape is the analysis of landscape urbanism via five concrete projects based on a strategic and systemic principle. They differ in objective, content and function.
Two of them deal with the regulated water level and are situated in the Netherlands. Another two projects are located in Germany and concentrate on crop rotation under the aspect of social structure. The fifth project treats the subsequent use of a peat cut in Ireland.
01. Haarlemmermeer, VISTA office, NL
02. Green Blue Slinger, Buro Lubbers, NL
03. Cultivated Fields, terrain: loenhart&mayr, D
04. Boora Complex, Boyd-Cody-Architects, IR
05. Mississippi Fischbek, Studio UC, Kuns&Herbert, D
The book is a co-production of lecturers and students that represents the first case study on the topic of landscape urbanism. It is the starting point for the research to come on landscape urbanism at the Institute for Architecture and Landscape.
Lecturers: Klaus Loenhart, Christina Kimmerle, Andreas Goritschnig